Guide Outline
Where to stay

How to get around

Cheap Eats in Santander

Do's

Don'ts
Santander is a wonderful city in the North of Spain that often gets overlooked because of the more famous cities like Barcelona and Madrid. But this port city oozes both style and glamour at every turn and unlike Madrid, it has a picturesque beach to admire as well. A minimum of 3 days is needed to explore this city; however, a longer stay is advised.
Get Sofware Coupons, Deals, Discount Codes
Perhaps a tour across Northern Spain, would be the perfect opportunity to visit Santander. If this is the case consider adding Bilbao and A Coruna to your magnificent Spanish adventure.

Get Online Shopping Coupons, Deals, Discount Codes
Where to stay
The best place to spend your nights in Santander is in a hotel. As a popular summer holiday destination for Spaniards looking for a cooler summer, hotels have been big business here for decades. Therefore, they tend to be situated in the best locations. But it never hurts to look at alternative private rentals on websites like Air BnB as well.
Located, within a stones throw of the beach the Hotel Santemar provides double rooms with and without sea views. If you are travelling in a couple this could the place for you. You can keep your costs down with a standard room costing €44 per night. If you prefer to be within the vibrant city centre consider staying at the modern Silken Coliseum hotel. For €77 per night, breakfast included during your stay.
Alternatively, if you want to cook a few meals inhouse and save your money for the attractions, stay at the Apartamentos Las Brismas. They provide private ensuite rooms for 2, 3 or 4 people. Prices start at €59 per night. You will need to plan and book ahead, as rooms here often sell out way ahead of time.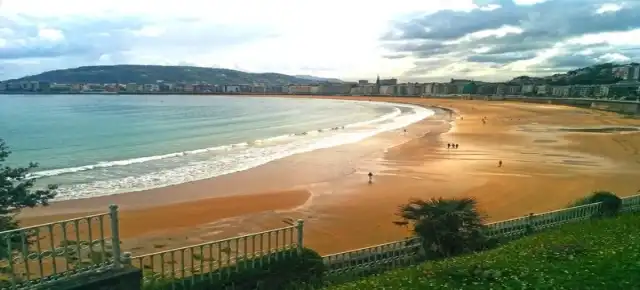 Get Sightseeing Tour Coupons, Deals, Discount Codes
How to get around
Santander is a small city and can be easily walked around. All you need is comfy shoes and a street map. If you do wish to take the bus, they operate every 15 minutes from city hall to el Sardinero beach, with interesting stops on route, for example Plaza de Italia.
Get Online Study Coupons, Deals, Discount Codes
Cheap Eats in Santander
Really embrace the Spanish culture by eating at the local bars and cafes like Bar Abel, Bodega Fuente De and RestauranteGorio. Also, for lively evening eateries take a walk down Calle Peña Herbosa and visit your favourite looking places.
Dishes to order include Marmita, the fishermans stew, CocidaMontanes, which is a mixture of beans, bacon, cabbage and many other tasty treats. Cheese is also an absolute must to add to your foodie list, as there are several regional cheeses produced nearby.
Finish your meals with a shot of orujo. It's a very potent distilled spirit which many Spaniards believe helps digestion. There is normally a choice of flavours, like coffee and chocolate.
Get Phone Coupons, Deals, Discount Codes
Do's
Do spend some time on the beach, regardless of the season. Come rain or shine the shoreline of Santander is beautiful. The beach is wide and flat, perfect for walking, sunbathing and just gazing at all that surrounds it.
Do pack a couple of smart casual outfits for dinner. Santander is considered by many to be quite "posh."Not only is it a wealthy city, but the locals like to flaunt it. So, be prepared to look smart for your sit down dinner.
Get Laptop Coupons, Deals, Discount Codes
Don'ts
If you don't like rain, don't visit Santander during the Winter months. Temperatures won't often dip below 10°C, but the heavens will open, in order to prepare the greenery for spring.
Unless you want to celebrate a specific Spanish holiday, don't visit during a public holiday, as prices are increased and restaurants become crowded.
Don't miss visiting the Palacio de la Magdalena, it is over 100 years old and now belongs to Santander. It was a gift from the Spanish royal family in 1912.