Petra in Jordan is definitely one of the most beautiful sights in the Middle East and it's no wonder that it has been chosen as one of the new wonders of the world. During my visit to Jordan, Petra was high on the list and it surpassed all my expectations.
But what is the best way to visit this beautiful ancient city and what should you absolutely avoid doing when planning your visit? I've written my experiences of visiting Petra in a complete travel guide.
Get Sofware Coupons, Deals, Discount Codes
When to visit
One of the first questions you should ask yourself is when you should travel to Jordan to visit Petra. Due to its location in the Middle East, you may want to avoid the summer months when the temperatures rise well above 35 degrees Celsius. The best periods in the year are spring and autumn since it's still very warm, but not as oppressive as during the summer months. Therefore March, April, September, October and November are your best choices.

Get Online Shopping Coupons, Deals, Discount Codes
How to get there
There is of course the option of visiting Petra as part of an organized tour, but for those who wish to visit Petra independently, there are several ways of getting there. Most visitors of Jordan will arrive in Amman (3 hours drive) or Aqaba (2 hours drive). A rental car is a good option for visiting Jordan, but might be a bit chaotic in the main cities. If you drive to Petra from Amman, the Desert Highway is the shortest route, but the King's Highway is a bit more scenic. Petra is located near Wadi Musa, which is the main hub for visitors as there are numerous hotels and restaurants here.
Another option is to take public transport. Taking the minibus is by far the cheapest option to travel around. Though keep in mind that you will pay more than locals and prices tend not always be the same. Buses leave from Amman bus station (north) and Aqaba as well. Afterwards it's easy to travel further to Wadi Rum.
Those who are not comfortable with traveling by public transport can go with a taxi (expensive).
Get Sightseeing Tour Coupons, Deals, Discount Codes
Jordan Pass: do or don't?
Tickets for Petra are very expensive. If you are traveling in Jordan, the best option is to buy the Jordan Pass. Even if Petra is the only site you will be visiting, the cost of the Jordan Pass is less as it also eliminates the cost of your visa (normally around 40 USD). There are three types of Jordan Pass: Jordan Wanderer (99 USD), Jordan Explorer (106 USD) and Jordan Expert (113 USD). The difference is the number of days you can visit Petra (1-3 days).
Get Online Study Coupons, Deals, Discount Codes
How long does it take to visit Petra?
Difficult question as this is a personal matter. However, Petra is quite expansive, so if you have the time in your itinerary we recommend you to take at least two days to visit.
Get Phone Coupons, Deals, Discount Codes
What to do in Petra?
When Petra is mentioned, everyone thinks of the Treasury, the carved out of sandstone rock temple that featured in the Indiana Jones trilogy. Petra has numerous hiking trails to explore. The most popular ones are the main trail through the Siq, the trail to the Monastery and the Al-Khubta trail to a viewpoint overlooking the Treasury. As these can be quite strenuous, it might be a bit too much to complete in a day.
Get Laptop Coupons, Deals, Discount Codes
What is Petra by night?
Petra by night is a spectacle taking place every Monday, Wednesday and Thursday evening. During these evenings the trail through the Siq to the Treasury is luminated by more than a thousand candles. The show ends with traditional music and a light show at the Treasury to make this an enchanting experience. The Jordan Pass doesn't cover this so you need to purchase new tickets (17USD).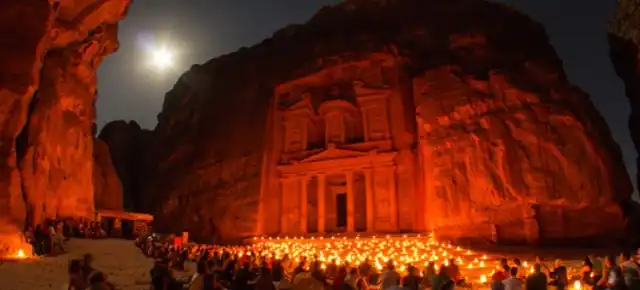 Get Antivirus Software Coupons, Deals, Discount Codes
Travel tips for visiting Petra
Petra is always very crowded. Especially at the Siq where you can catch a first glimpse of the Treasury. If you want to have a more secluded experience of this archaeological site, your best chance is to arrive early at the entrance. Petra opens at 6am and only a handful of travelers arrive this early.
Be sure to bring enough water as it can be quite warm in Petra. On the site there is a restaurant (near the start of the trail of the Monastery) and a small shop where you can buy drinks as well.